Rock Outdoors - your partner in outdoor activities and learning
Fun? Excitement? New experiences? New skills? New friends? - whatever your hopes and aspirations, Rock Outdoors creates unique adventure experiences and programmes specific to the individual or group. From the adrenaline-fuelled challenge to the slower and more exploratory experience - and everything in between - we look forward to being your partner in your first, or next, outdoor adventure!
For individual requirements contact us directly
Based in Burrington Combe, N. Somerset and using venues around the Mendips (AONB), Cheddar Gorge and Weston-super-Mare.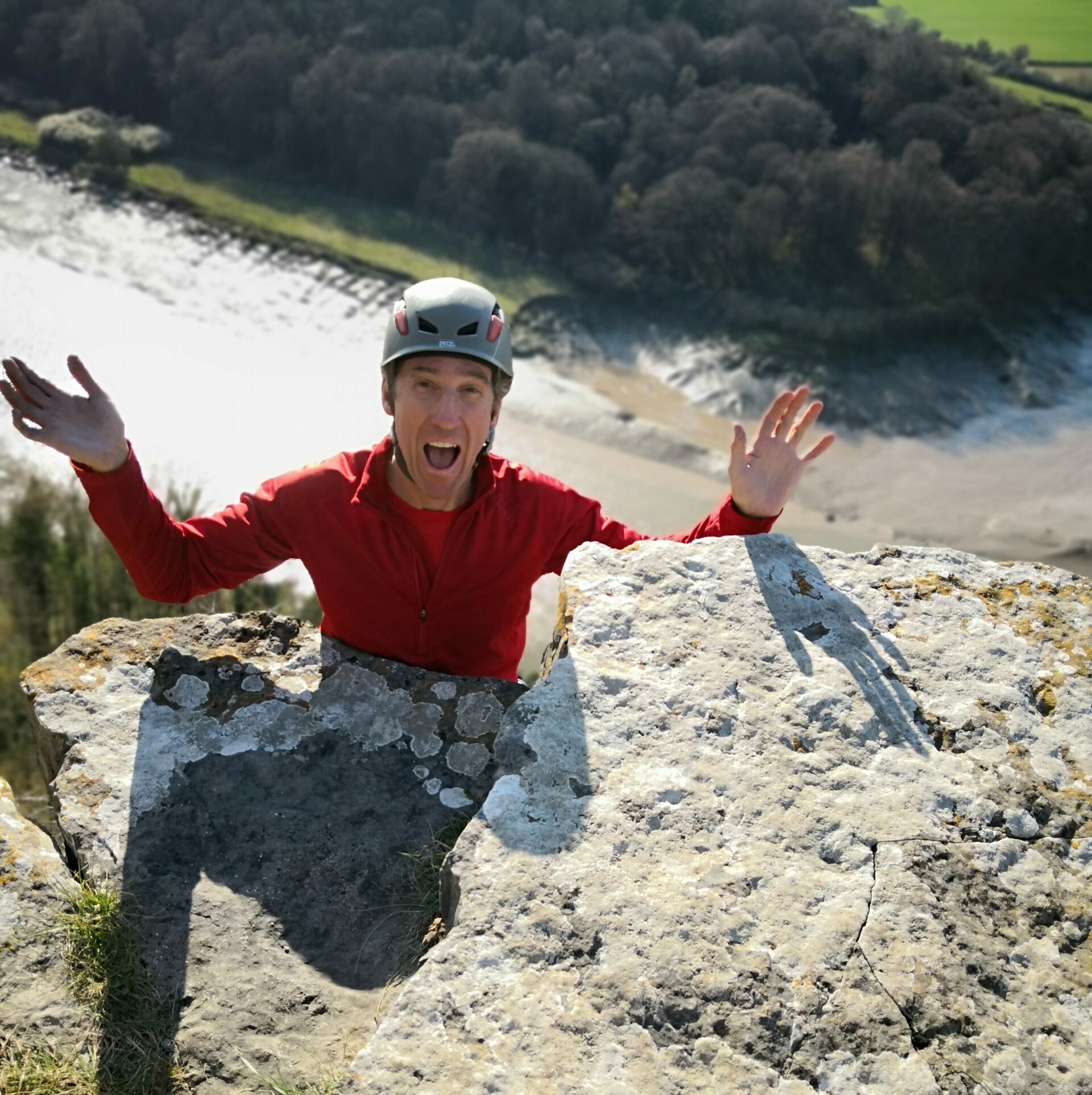 What a great, busy summer! Whether above ground climbing, abseiling or navigating in the hills - or below in the cool (and possibly refreshingly wet) depths of the caves, it has been great to share the adventure with so many people - and with promises of a return visit we look forward to seeing many of you again.
Based in Burrington Combe in the heart of the Mendips and surrounded by wonderful limestone cliffs, crags and quarries, we are perfectly located to access brilliant climbing and abseiling venues as well as surrounded by a network of amazing caves waiting to be explored. We also have exclusive use of a climbing venue in Weston-super-Mare and sometimes venture further afield at times to other locations in the UK if relevant to the course.
Our bespoke sessions are created specifically for your individual group to ensure maximum engagement, challenge and fun! Whether Individuals, Children and Families, Hen, Stag and LGBTQ+ parties, Adult or Youth groups; whoever you are, whatever your goals, your session will be unique to your group.
Contact us today to let us know how we can help.
Many thanks

for all your hard work and commitment this term. We are very lucky to have you both.
Matt Mann
Our instructor was fantastic,

knowledgable and made us all at ease. We went into wide spaces, tight spaces, climbed up and down and we all managed things we didn't think we could do. The children asked numerous questions and our instructor had the patience of a saint and knowledge of a professor when it came to answering them. In short when asking the children how many starts out of 5 they would give it they said 10! And for me, it was exhilarating, got a real taste for caving now! Truly fantastic experience and we'll back again for sure. Thank you Rock Outdoors, it was a truly perfect experience.
'spandauwirral'
Excellent. Exhilarating.

Two friends and I went with our instructor/guide Neil to the cave and 3 hours later I can truly say I've never had such a great time in a dark, 'damp-ish' enclosed space 60m beneath the Mendips! Neil was superb: patient, knowledgeable and calmingly motivational. If you've never been caving, it's a must. If you have been caving, then do it with these guys. Friendly, welcoming and professional.
markmT8412XI
What an experience...

overcoming mind, body and spirit to fully participate and enjoy the caving experience (not bad for someone who turned out to be little claustrophobic!) - Neil was our guide and he continued to encourage and support me despite my reluctance and fear, never pushy or insistent - but just enough to give me the confidence to trust in him and myself! Cannot rate this highly enough! Amazing opportunity to be at one with nature, while having a huge amount of fun along the way! We are travelling from Lands End to John O'Groats and this has been our best experience to date (and we have tried many!)
Dawn_clem
This was marvellous!

I did a charity abseil as part of a fundraising activity. Neil was our instructor and he was great! Very supportive and reassuring for those a bit more nervous, but he also encouraged us to try jumping down the rock face - which we all did! I can't wait to do it again!
Heather P
Awesome adventure experience

Our small family group had two awesome half day adventures of rock climbing and caving. The climbing was tailored to our abilities and in a fantastic location. Neil and carol were brilliant instructors, really friendly, patient, organised and incredibly knowledgable. We had so much fun climbing that we decided to try out caving for the first time. Despite initial anxieties about caving, it was an amazing and totally unique experience. Thanks to Neil and Carol, we felt totally safe and had lots of fun. We took the wet cave option which was exciting and thrilling to explore. Throughout the booking process, Carol and Neil were super responsive and efficient. Would thoroughly recommend. Thanks for a wonderful time!
Jan Duffy