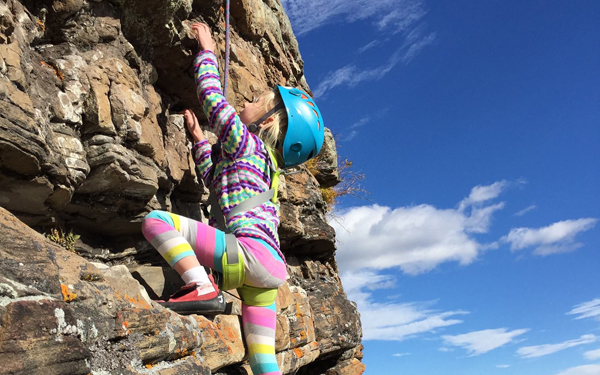 Small Group Size – we ensure groups are kept small to ensure all group members are actively involved in the climbing process and make quick progress.
   Develop skills – with instructors committed to guiding and supporting each individual, you soon learn the basic techniques of climbing and belaying.
  Develop Confidence – You will soon find yourself able to push your boundaries and climb higher than you had thought possible!
  Enjoy the Puzzle – Climbing is a mental brain-teaser as well as technical challenge – enjoy thinking through the moves as you go.
This session is created to be a fun but informative introduction to the exciting sport of outdoor climbing. Your instructor will talk you through some of the basic principles of climbing, introduce you to the necessary equipment and give you enough instruction to get you on the wall to try them out as soon as possible! The session will be paced to suit the group so no two sessions will be the same., Small groups ensure individualised attention, personal progress, and the active engagement of all. Facing the challenges, overcoming fears and ascending to new heights are just some of the things that will have you leave the session with a sense of achievement and maybe even a new passion for a new sport!
Some practicalities to help you prepare for your session
Timings:
Generally morning sessions run from 10am to 1pm and afternoons from 2pm to 5pm. If you have specific time requirements, just ask – we are happy to accommodate them if possible.
Location and facilities:
Our primary location for climbing is currently Burrington Combe as this offers several beginner lines as well as progressively harder ones. It also has a carpark and toilets. Unfortunately the Burrington Inn is closed at the moment so any snacks or drinks will need to be brought with you. We are also developing a climbing venue at Wood Lane Quarry in Weston-super-Mare which is currently great for children, and we use other venues in the Mendips depending on the size, experience and ages of the group. This will all be discussed at the time of booking.
Equipment and clothing:
We provide full safety equipment including harness and helmet. We have harnesses to fit very young children to X-large adults and everything in between, so we can generally accommodate all participants. For your part, please wear flexible clothing which allows for plenty of movement and stretching of both legs and arms. A warm fleece or jacket can be very welcome when you are belaying and not actively climbing, and a waterproof if the weather is threatening to be wet. Climbing shoes are not necessary, but please ensure you wear good, supportive trainers.
Hair, jewellery, watches, electronic devices:
Please tie hair back to prevent it getting caught or obstructing your vision. A low ponytail is perfect as you will be wearing a helmet. We ask you to remove all rings as not only will they get scratched but they can cause serious injury if caught on a crag. Loose-hanging necklaces and long or loopy earring should be removed, and we will ask you to remove items from your pockets in case of damage from dropping or injury to people beneath you!
Gift Voucher
Give the gift of adventure that will be remembered and shared far into the future!