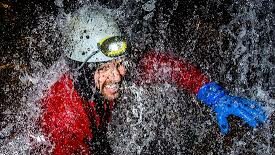 Small Group Size – we ensure group is kept small to ensure all members are actively involved in the session, keep moving and get a full experience!
   Confidence Building – with more individualised instruction and support you  find the courage to face new challenges with confidence and self-belief.
  Ensured adrenaline and excitement – with the water, a 20ft free-hanging ladder to navigate and full submersion through the sump – be prepared for a challenge!
Team work – working closely as a team is essential to the safety, well-being and enjoyment of all – a great experience for all.
Swildon's Sump 1 trip offers a guaranteed day of challenge and adventure! It is a more advanced caving trip and demands significant stamina and confidence. The trip passes through the Upper Series as for the half day trip, but then continues to follow the stream along its course into the depths of the cave, accessed by descending a 20ft portable caving ladder! Continuing through passages alive with running water, its pools, waterfalls, chutes and more amazing formations you finally reach Sump 1 – a fully blocked part of the passage which to continue, necessitates full submersion following a fixed handline for the approximate 2 meters distance. Be prepared for the shock of cold water down the neck, take a breath and pull – you'll soon be out the other side! Of particular interest on this side of the sump is the completely different cave formation. You continue to Sump 2 which is where the trip turns back. The return journey takes you back through Sump 1, after which you keep yourself warm by the ascent – including getting back up the 20ft ladder!
Session Timings
We meet at Priddy Green at 10am and the trip usually continues through till 2:30/3pm depending on the group size and ability.
Meeting Location and Facilities
We meet at Priddy Green near to the farm buildings (Postcode: BA5 3BD | OS grid reference: ST 52693 51039 | what3words: ///dunes.apprehend.establish). The farm does offer basic protection in a barn to change, though many people choose to change outside instead. There are no public toilet facilities so make sure to use facilities elsewhere before you arrive. There is a pub in the village if you have time for a coffee beforehand.
Equipment and Clothing
Rock Outdoors provide a caving oversuit, helmet, head torch, belt and gloves. We can also provide wellie boots if needed.
Whilst the cave itself remains at a constant temperature of about 10 or 11 degrees, the water inside it does not, and the weather/wind factor upon leaving the cave can also affect how cold you feel.  You will get completely wet so a full change of clothes and a warm jacket for afterwards is a must. Please wear at least two warm, stretchy layers under the oversuit – these could be long sleeved tee-shirt plus fleece, thermal underwear plus jogging trousers, or a fleece onesy to wear over thermal underwear or t-shirt and leggings would also work. Wellies are mandatory  and you'll need appropriate socks – wet-suit socks are great if you have them. No jeans or inflexible material.
Don't forget a towel, and depending on time of year, a warm jacket, woolly hat and warm gloves will soon help warm you up.
Hair/Jewellery/Electronics
Hair should be tied back in a low ponytail to accommodate the helmet; jewellery should be taken off and watches are worn at the wearer's risk. Cameras or GoPros are also carried at your own risk. Phones should not be carried – the environment is unforgiving and you don't want to be concerned about damaging anything or be wearing anything that might hinder or obstruct your progress.
Food and Drink
We generally only take snack bars into the cave so we recommend that you eat something to provide energy up to an hour before the trip. Snacks and hot drinks are very welcome afterwards!
Inhalers/Medications
If you need to carry an inhaler or any other medication, please let your instructor know.
Gift Voucher
Give the gift of adventure that will be remembered and shared far into the future!