Small Group Size – we ensure groups are kept small to ensure all group members are actively involved in the climbing process and we can give you more individualised attention.
   Further Develop skills – building on your already acquired basic skills, you will deepen your understanding of when and how to better use these skills,  including both belaying and climbing techniques. It's not all about climbing higher and further, it's about climbing better.
  Continue to Develop Confidence – with continued practice and instruction your increased confidence will help you to explore new heights and push boundaries. You will also further develop your belaying technique to keep your partner safe.
  Enjoy the Puzzle – The more you climb, the more interesting the puzzle as you challenge yourself to harder moves and routes. Learn to read the rock face before you even start, identify the route and anticipate the holds and moves.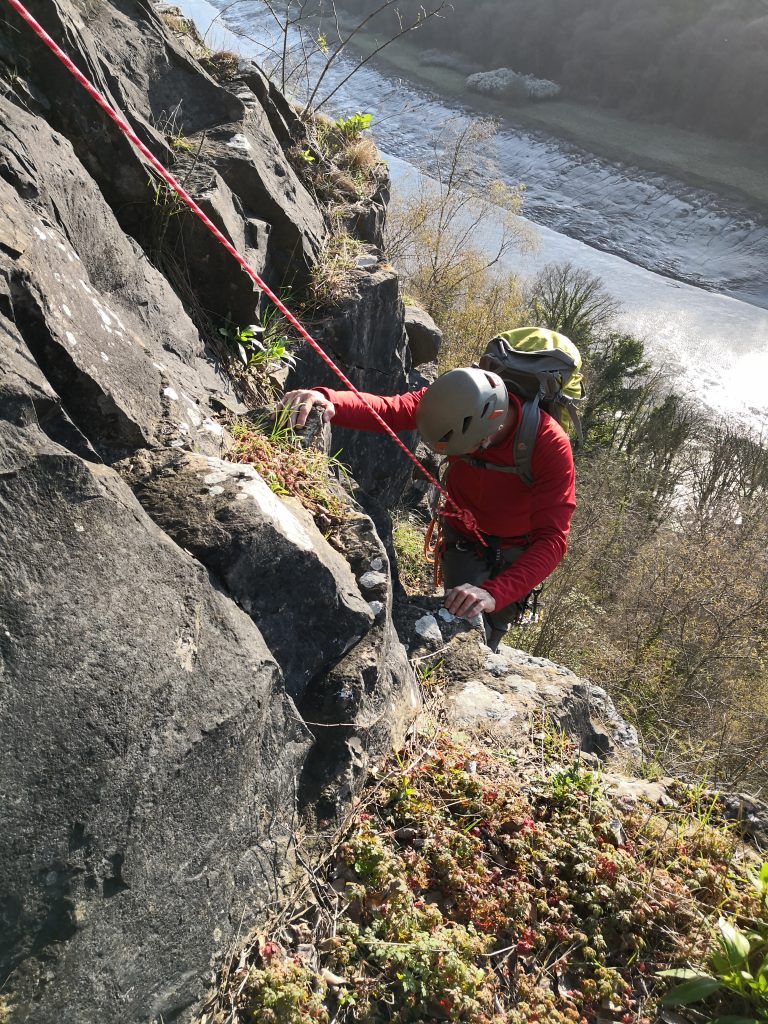 What to Expect
During this half day session your instructor will create a session which builds on your previous experience and current competencies and confidence. You will develop increasingly complex climbing skills, including considering how to read the route before climbing,  general climbing techniques, more independent belaying and lowering skills,  and general confidence-building through plenty of practical crag time. The instructor will respond to the individual needs of the group and tailor instruction accordingly.
Session timings
Generally sessions run from 10am – 1pm (mornings) and 2pm – 5pm (afternoons). We may be able to accommodate other times so contact us to discuss individual needs.
Location and facilities
Our primary location for climbing is currently Burrington Combe as this offers several beginner lines as well as progressively harder ones. We do use other venues at the discretion of the instructor or if Burrington Combe is already in use. The Burrington Inn is next to the climbing venue offering a warm and comfortable place to wait and hot and cold food and drinks. Public toilets are on site just off the car park.
Equipment and Clothing
Rock Outdoors provides full safety equipment including harness and helmet. If needed we can provide chest harnesses for larger people, and full body harnesses for younger children. You must be able to fit our personal safety equipment in order to participate in the activity. Wear flexible clothing which allows for plenty of movement and stretching of both legs and arms. A warm fleece or jacket can also be very welcome when you are belaying and not actively climbing. Climbing shoes are not necessary but good, supportive trainers are essential.
Medication and Inhalers
Please ensure any needed medication or inhalers are readily available and inform the instructor beforehand.
Hair, jewellery, watches, phones
Hair must be tied back to prevent it getting caught in the belay device or obstructing your vision. A low ponytail is perfect as you will be wearing a helmet. Please remove all rings as not only will they get scratched, they can cause serious injury if caught on the crag. Loose-hanging necklaces and long or loopy earrings should be removed, and phones should be removed from pockets as dropping them will not only damage them but could cause injury to someone below.
Gift Voucher
Give the gift of adventure that will be remembered and shared far into the future!