Key Points
Suitable for (almost) everyone, though a love of getting wet and a confidence with flowing water a must!
A progressive caving experience which develops skills and abilities so you face the afternoon's additional challenges with confidence.
Low instructor to participant ratio means more action and more support if needed to maximise the experience and adventure!
Fully experienced instructors tailor the experience to meet the needs of the group.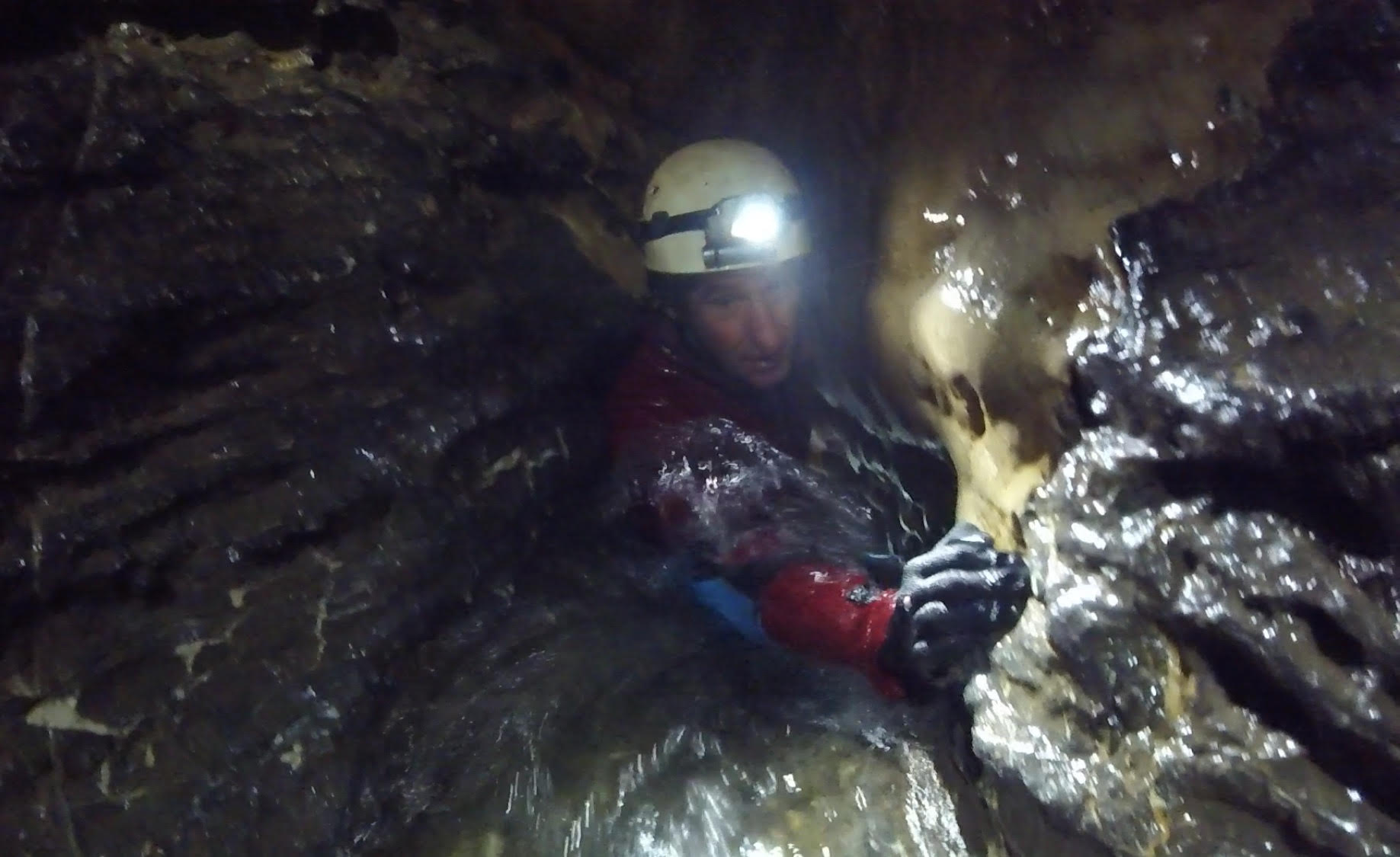 What to Expect
Goatchurch Cavern: is a 'fossil cave', formed by the action of water over many thousands of years, it now no longer has water running through its main passageways. With its choice of chambers, passages, mazes, squeezes and features to explore and wonder at, it offers experiences for cautious beginners to intrepid explorers, children and adults alike, and your instructor will tailor each trip to ensure a fun, exciting trip suited to your level and goals! Goatchurch begins with a large inviting entrance that leads into the old Victorian show-cave. Keep an eye out for sleeping bats and interesting and beautiful formations such as stalactites, and the myriad of fossils embedded in the sedimentary rock.
Swildon's Hole: is a wet cave so is alive and continuing to evolve as streams, waterfalls, pools and cascades of water continue to carve their way through the cave system. You'll be joining the river on its course through the cave, wondering at the amazing caverns, the stunning formations, and enjoying paddling, wading, passing under, through or clambering up waterfalls, and generally enjoy getting thoroughly wet on your journey! Adding a whole new dimension to the experience, the sounds and sensations of a cave alive with water create an unforgettable journey below ground, and the beautiful stalactites, stalagmites and stunning formations is just one of the reasons Swildon's Hole is considered by some to be one of the top 10 caves in Britain.
Session Timings
We meet in the car park at Burrington Combe at 10am. Whilst there is some flexibility depending on the group, the morning session generally ends back at the car park at 1pm. We then reconvene at Priddy Green at 2pm to get re-kitted if necessary and prepared for the afternoon session in Swildon's. This trip will end by 5pm back at Priddy Green.
Meeting Location and Facilities
In the morning we meet in the car park (Postcode: BS40 7AT | OS grid ref: ST 47641 58771 | what3words: ///assume.shirtless.renews) with public conveniences in Burrington Combe at 10am or 2pm to kit up and get prepared. The car park is just past the cattle grid up the gorge from the Burrington Inn, which provides easy access to food and drink and somewhere to wait in comfort. The walk from the car park to the cave entrance is about 15 minutes up a stony path through the woods with some steep steps at the end.
In the afternoon we meet at Priddy Green near to the farm buildings (Postcode: BA5 3BD | OS grid reference: ST 52693 51039 | what3words: ///dunes.apprehend.establish). The farm does offer basic protection in a barn to change, though many people choose to change outside instead. There are no public toilet facilities so make sure to use facilities elsewhere before you arrive. There is a pub in the village if you have time for a coffee beforehand.
Clothing and Equipment
We provide full caving oversuit, helmet, head torch, belt and gloves. We can also provide wellie boots if needed.
For the morning it is recommended that under the oversuit you wear a tee shirt, a long sleeved stretch top and stretch trousers. Fleeces, leggings, jogging bottoms are all good – no jeans or inflexible material. Welly boots are worn in the cave for protection and grip and you will also need appropriate socks.
For the afternoon you will get completely wet so a full change of clothes and a warm jacket for afterwards is a must. Whilst the cave itself remains at a constant temperature of about 10 or 11 degrees, the water inside it does not, and the weather/wind factor upon leaving the cave can also affect how cold you feel.Please wear at least two warm, stretchy layers under the oversuit – these could be long sleeved tee-shirt plus fleece, thermal underwear plus jogging trousers, or a fleece onesy to wear over thermal underwear or t-shirt and leggings would also work. Wet-suit socks  are great if you have them. No jeans or inflexible material.
Don't forget a towel, and depending on time of year, a woolly hat and warm gloves will soon help warm you up.
Hair/Jewellery/Electronics
Hair should be tied back in a low ponytail to accommodate the helmet; jewellery should be taken off and watches are worn at the wearer's risk. Cameras or GoPros are also carried at your own risk. Phones should not be carried – the environment is unforgiving and you don't want to be concerned about damaging anything or be wearing anything that might hinder or obstruct your progress.
Food and Drink
No food or drink is taken into the cave so it is recommended that you eat something to provide energy up to an hour before the trip and something at lunchtime to keep you going.  Snacks and warm drinks are very welcome afterwards!
Inhalers/Medication
If you need to carry an inhaler or any other medication, please let your instructor know.
Gift Voucher
Give the gift of adventure that will be remembered and shared far into the future!