... try the art of rock climbing! Climbing can be for all ages with toddlers being some of the most natural, fearless climbers.  Putting your safety literally in the hands of someone else can be a daunting prospect, so let Rock Outdoors be your trusted partner. From an energetic scramble, to technical bouldering, to a challenging outdoor sport route or trad climb, climbing offers opportunities to challenge yourself, develop skills, and experience the world from new perspectives and heights. For some the fun is in the journey to the top, for some the puzzle and technical challenge, for others the personal challenge and adrenaline, and for yet others it's just getting up close and personal with an outcrop of rock to scramble and explore. Whether you're looking to try something new or develop your skills and rope techniques, Rock Outdoors will create sessions to meet your needs and make sure you have a great time doing it.
Sessions for beginners, for those wanting to bring climbing outside and for those wanting to develop confidence, technique and further experience – whatever your objective, Rock Outdoors will be your trusted partner.

Taster Session
Suitable for everyone who has little or no experience of climbing
Introduces you to the skills you need to climb safely and effectively
Low instructor to participant ratio ensures lots of hand on climbing experience
A half day introductory session to start you on your way with this fun, safe, exciting and challenging sport. Don't be surprised if you're bitten by the bug and want to join the fastest growing sport in the world!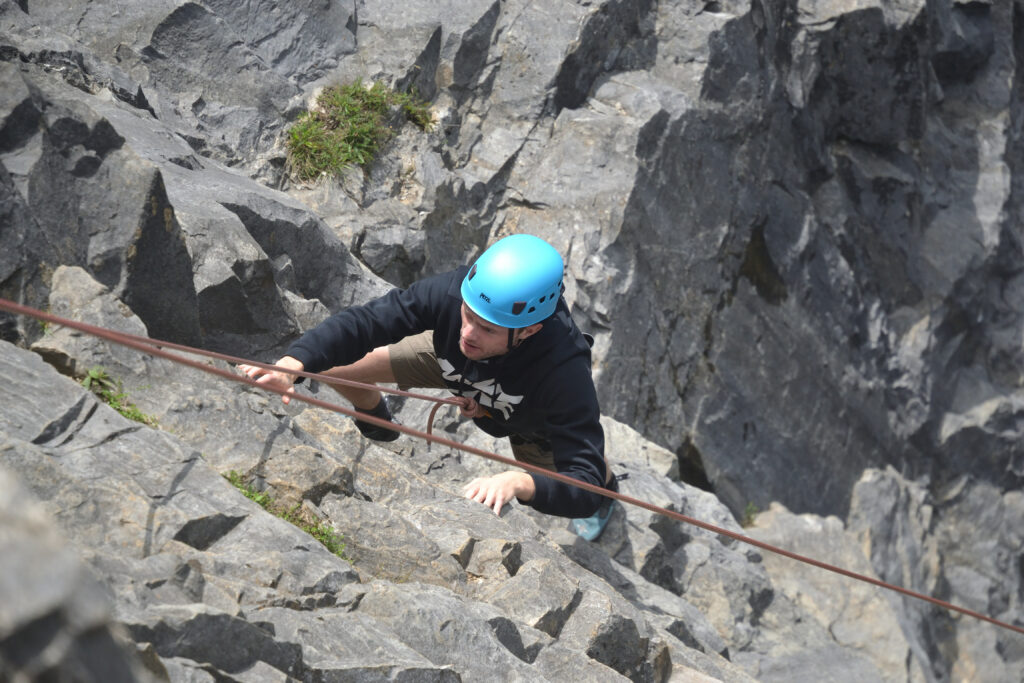 Development Session
A half day climbing session developing technique, confidence, skills.
Suitable for those who have already had an initial introduction to outdoor climbing, who are transitioning from  indoor to outdoor climbing, who can tie in confidently and belay with supervision.
Children's Climbing
Children are born climbers so it's fun to tap into and develop that natural ability. With a dedicated climbing crag and environment in West Lane Quarry, we can plan sessions and activities to suit all levels, from complete beginners to more experienced climbers. We develop skills and confidence through games, use of other equipment such as ropes from trees and caving ladders, low-level rock exercises as well as vertical climbing on the rock. We also use other locations for variety and differing levels depending on the needs of the group so this will be discussed at the time of booking.
Climbing is not just a physical sport – it requires and develops resiliency, responsibility, problem-solving, analysis, patience, focus and concentration. In addition to their own climbing, participants learn to take responsibility for their partners too, which involves developing a good level of trust, communication and teamwork between them. Seeing the natural support and encouragement they give each other is just one of the great things about our climbing sessions!
We offer climbing parties for birthdays or other occasions, single half day 'taster' experiences, one of the activities as part of a whole day adventure package, or a series of group sessions to develop confidence, competence and experience. Look at the youth groups section for further information or contact us to discuss your needs.