The Bronze National Navigation Award is a practical hands-on award. It is created for those new to navigation, whether  new to the outdoors or having been reliant on others, guidebooks or easy well-defined routes. It develops the confidence to plan and follow your own routes in the hills and countryside along paths, tracks and linear features. Basic map interpretation and compass work is also included.
It is also the starting point for many Duke of Edinburgh students, scouts and guides and cadet groups who are looking to develop their outdoor skills.
There is no upper age limit but our bespoke family or youth navigation courses are created for participants younger than 14.
A minimum of 12 hours, this course is held over 2 consecutive days. This configuration can vary if taken as a bespoke course, in which case contact us to discuss requirements.
Upon successful completion you will be able to effectively read the map and identify appropriate routes for your level of expertise; plan and follow appropriate routes; consider environmental impacts and responsibility, rights of access, walking safety and equipment, and what to do in case of an emergency. In short, you will be well-equipped to head out and enjoy a day in the country!
If successful you will receive a certificate from the NNAS Organisation
Practise, practise, practise! What better excuse to head out for the day to enjoy and develop your new confidence? And when you're ready to take the next step, register for our Silver Award .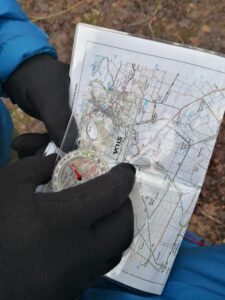 Skill/Technique – During the course you will:

Understanding of maps symbols and scales

Identify differences in a variety of maps and consider when best to use each one

Orientate the map with and without a compass

Use an orientated map to follow a set route, relating land features to map

Understand the terms and identify handrails, check points, catching features and use them to aid navigation

Use different methods to maintain your position on a map

Use 3-5 identifying features to prove location on map

Use double pacing to measure a short distance on the ground

Use an understanding of walking pace to estimate time from one point to another

Judge short distances by known objects eg 100m = football pitch

Consider appropriate equipment and clothing for walking in the hills and mountains

Consider basic safety issues and what to do in an emergency

Differentiate between uphill and downhill on the map by reference to contours

Recognise prominent hills, valleys, cols, ridges and spurs on map and ground

Orientate the map agains major ground features

Orientate the map againsty a compass needle

Use an orientated map to check the direction of handrails and location of other features to aid navigation
Bronze Award: April 25th/26th weekend  Book Now
Location:  Rock Outdoors Base Camp, Burrington Combe, the Mendips, N. Somerset
Time: 09:00 to 16:30
Maximum number per course: 8. Ratio of 1:4 per instructor
Silver Award: May 9th/10th 2020 weekend Book Now
Location: Day 1: Rock Outdoors Base Camp, Burrington Combe, the Mendips, N. Somerset/Day 2: the Brecon Beacons
Time: 09:00 to 17:00
Maximum number per course: 8.  Ratio of 1:4 per instructor