The Silver National Navigation Award develops the navigation skills acquired at Bronze level. Although the Bronze NNAS course is not a prerequisite, an equivalent level of experience and understanding is expected. The course adds skills required to navigate to features and places some distance from paths and tracks, teaches accurate compass work, develops more detailed map-reading skills, teaches a variety of suitable skills and techniques to help you cross open country, develops more accurate and detailed reading of contours, considers navigation in poor visibility, and generally develops your competence and confidence at planning and following more complex routes in hills and moorlands. Anyone with some prior experience but wanting to develop confidence and competence in the outdoors would benefit from this course.
It aligns with the Duke of Edinburgh silver award and is often taken concurrently.
There is no upper age limit but our bespoke family or youth navigation courses are created for participants younger than 14.
A minimum of 12 instructor contact hours, this course is held over 2 consecutive days. This configuration can vary if taken as a bespoke course, in which case contact us to discuss requirements.
Upon successful completion you will have the skills and confidence to be able to plan and follow more complex and extended routes in lowlands, hills and selected mountain routes. You will have accurate compass skills to aid in identifying direction, routes and bearings, you will be able to relocate at unknown locations from relating ground features to map, and be able to navigate in more open territory and in less than ideal visibility and conditions.  Inherent in the course is the continued development of confidence in the countryside and your ability to make knowledgeable decisions when planning a route, understanding of current legislation, our responsibility to the environment, and a more thorough understanding of appropriate clothing, equipment, safety and emergency procedures. Most importantly, you will feel comfortable getting off the beaten track and far from the madding crowds and enjoying new adventures!
Practise, practise and more practise. The course is comprehensive and covers a huge amount of information, skills and techniques. The only way to consolidate this learning is to get out and practise – otherwise the truism of 'use it or lose it' will definitely happen here! Again, what better excuse is needed to take time out in the hills and mountains putting your new skills and competence to the test? You can also continue to develop your expertise and skills by joining one of our hill and mountain skill development days – or even a guided day where you can enjoy having the route planned but put your training to the test along the way…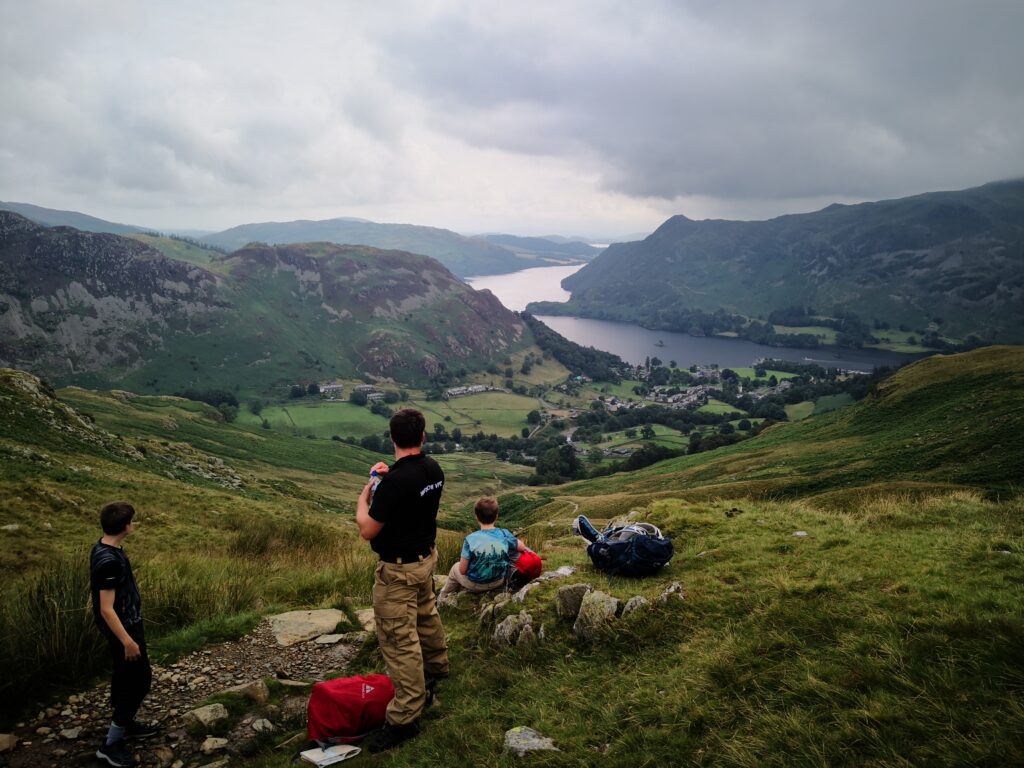 Skill/Technique - During the course you will:

Further develop confident use of skills and techniques used in the Bronze Award

Set a compass bearing from map to ground

Use a compass to follow bearing accurately across open ground over short legs

Measure distances with reasonable accuracy using double pacing and timing

Estimate the time needed for height gain

Plan an appropriate route using check points and catching features to keep on course

Identify the most appropriate route where more than one option is available

Use major landform features as the prime navigation method

Identify smaller contour features on map and ground (eg re-entrants, small hills)

Use aiming off to reach a target on a linear feature

Use coarse navigation and check points to locate an attack point

From an attack point use fine navigation to locate a target

Understand and effectively use relocation strategies

Understand countryside responsibilities, impact of walkers and access legislation

Understand and plan for the potential impact of weather, fatigue and physical discomfort and know what to do in an emergency. Basic first aid knowledge is expected.
Bronze Award: March 28th/29th weekend
Location:  the Mendips, N. Somerset;   Time: 09:00 to 16:30
Maximum number per course: 12. Ratio of 1:6 per instructor
Bronze Award: April 25th/26th weekend
Location:  the Mendips, N. Somerset;  Time: 09:00 to 16:30
Maximum number per course: 12. Ratio of 1:6 per instructor
Silver Award: April 25th/26th weekend
Location: Day 1 the Mendips, N. Somerset/Day 2 the Brecon Beacons;  Time: 09:00 to 17:00
Maximum number per course: 8.  Ratio of 1:4 per instructor
Silver Award: May 13th/14th weekend
Location: Day 1 the Mendips, N. Somerset/Day 2 the Brecon Beacons;  Time: 09:00 to 17:00
Maximum number per course: 8.  Ratio of 1:4 per instructor